The ruling BJP on Monday asked the Election Commission to consider the marriage season while fixing the schedule for the upcoming assembly elections.
The suggestion was made during a meeting between the Chief Election Commissioner AK Joti-led team of Election Commission, which arrived on a two-day visit to the state to review preparations for the elections.
"The months of November and December are festive months, and are quite conducive for marriage ceremonies. It is pertinent to note that there are no marriage ceremonies between December 14 and January 14 as the period is not considered appropriate for Hindu marriages. Considering this fact, it is requested that if the election date is considered in this period, it would be most suitable for voters and parties," BJP said in its representation.
BJP also suggested the prescription of a legal process and machinery for release of items confiscated during the election process, a single window system for all legal documentation required during polls, relaxation in the guidelines regarding 200m distance from the polling booth for setting up a temporary campaign office, publicising VVPAT, among others.
In its representation, the Congress party asked the Election Commission to ensure that bureaucrats and government officials who are inclined towards any of the parties be kept away from election duty. It sought steps to create a simple system so that the 3 lakh people, who will be on election duty, are able to cast their votes.
The Congress also suggested that the paper slips in the Voter Verifiable Paper Audit Trail (VVPAT) be counted in 10% of randomly selected polling booths on voting day itself, and in case of any discrepancy, the number of votes be counted as per the VVPAT and not the EVMs.
ReportAhmedabadIndiadna CorrespondentDNA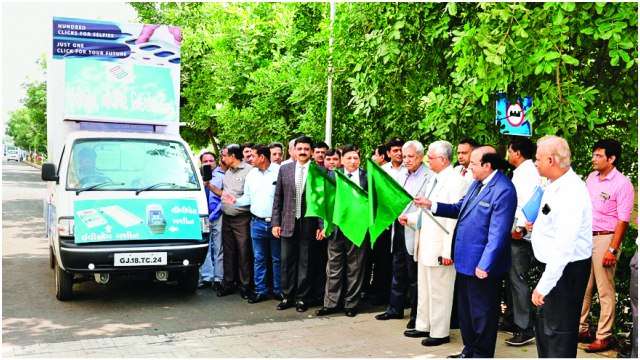 Chief Election Commissioner AK Joti, and other officials flag off a mobile EVM-VVPAT demonstration centre in Gandhinagar on Monday
Source
http://www.dnaindia.com/ahmedabad/report-avoid-polls-during-marriage-season-bjp-tells-ec-2551728