In an event that had big names from Bollywood and wildlife conservation seated together, actors Salman Khan and Katrina Kaif launched Silent Sentinels of Ranthambhore — a photo-book by politician and former tourism minister of Rajasthan Bina Kak. The event was held at Hotel Taj Lands.
Kak, who is known for her love for tigers and boosting the tourism and conservation initiative at the Ranthambore Tiger Reserve said that it was while visiting Ranthambore she got addicted to photography and soon what started out as a hobby became a passion.
"Filmmaker Mike Pandey guided me, right from which equipment to buy to using the right frames. Soon, I got attached to photographing tigers and the forest, and in no time, thanks to some of the most knowledgeable drivers and forest officers, I knew of every tiger and even their family tree," she said.
In fact, she revealed that it during treatment and chemotherapy for breast cancer that she began editing the photographs. "Going through the photos of the forest and thinking about the tigers kept me connected with life. And now, here I am with this book which I dedicate to my grandchildren Kabir and Jawahar, hoping they along with everyone else co-exist peacefully with nature," said Kak.
Bollywood
Wildlife Conservation
Salman Khan
Katrina Kaif
Silent Sentinels
Ranthambhore
Politician
Bina Kak
Hotel Taj Land
Mike Pandey
Kabir
Jawahar
Ranthambore Tiger Reserve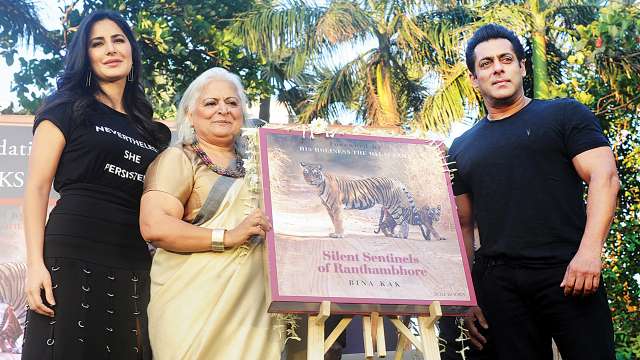 Author Bina Kak along with bollywood actors unveil her book
Source
http://www.dnaindia.com/mumbai/report-salman-khan-katrina-unveil-bina-kak-s-book-on-tigers-2567487